It's been a while; I've been busy with words and my first love, creating gardens.
It is difficult to express my love of gardening as it is almost a surreal experience. I completely shut out the world. Only the soil, plants and wood have any meaning for me.
As I run my fingers through the organic soil, crumpling clods and smoothing it into the Potager wooden planters it's like a blank canvas.  Ready. Waiting to become something more. Something fragrant. Beautiful.
Potager gardens are what I think joy looks like – emerald green spiny chives, lush red oak lettuce, the purple foliage of cabbage, golden oreganum, spicy coriander, sweet smelling geranium, scarlet leafed mustard, pink basil – a cacophony of harmony.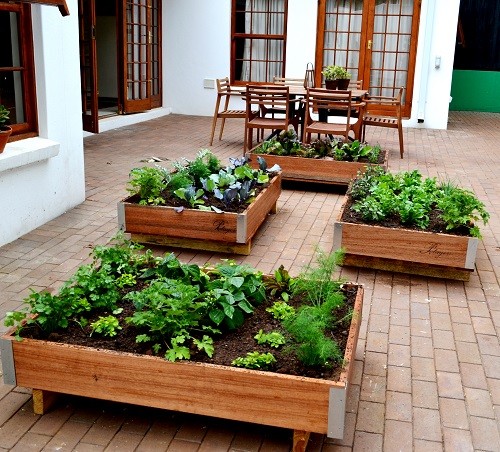 Potager gardens look really good anywhere, but I think they look best when they brighten up an empty patio, giving life to an area.
In this case, I'd have prefered to lay down some gorgeous bronze stones, to completely cover the bricks - giving it a French feel. I think it would pull the whole design together. But, as you can see its still beautiful.
We only planted this garden on Friday, so it's brand new. Imagine.... in a month it is going to even better.