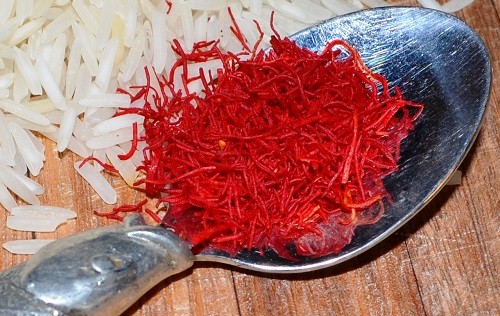 I am fascinated by the ancient historical trade in aromatics; The Spice Route. Aromatic substances were viewed as mysterious as they were connected in many cultures with the idea of a faraway paradise.
When Geoff from Wicked Food Cookery School pulled from his apron a vial of Saffron, I could almost envision belly dancers swathed in golden silk and spice traders haggling in markets.
Saffron is the most precious and most expensive spice in the world, more expensive per kilo than gold.
We used the saffron in a seafood paella dish. I have adapted the dish to be more typically South African using a combination of Wicked Foods recipe and one from Recipe World – here is my take on it.
SEAFOOD PAELLA
Ingredients:
Pinch of Saffron
1 kg rice, long grain uncooked
1 kg kingklip fillet, cut into small pieces
1 kg prawns, cut and deveined
24 fresh mussels
3 onions, thinly sliced
Olive oil for frying
1 green pepper, seeded and chopped
1 red pepper, seeded and chopped
1 sprig fresh rosemary
200 g button mushrooms, sliced
3 cups water and fish stock
1 sprig rosemary
½ tsp paprika
tabasco sauce
butter
4 tbsp chilli sauce
4 clove(s) garlic, crushed
2 tsp masala
1 tsp salt
1 tsp tobasco sauce
Green beans trimmed and halved
Method:
Soak saffron threads in 2 Tsp of hot water and set aside.
Cook the rice in salted boiling water until tender, about 20 minutes. Drain and set aside.
Combine chilli sauce, garlic, masala, salt and Tabasco sauce and marinate the kingklip, mussles and prawns for about 30 minutes.
Meanwhile, fry the onions in a little oil in a paella pan or wok until golden brown.
Add the peppers and fry for a further 10 minutes; Add the beans and fry for a further 5 minutes.
Add mushrooms and fry for a further 5 minutes. Remove from the pan and set aside.
Add about 15 ml oil to the frying pan and transfer the marinated kingklip, mussels and prawn mixture to the frying pan and stir fry for 10 minutes, or until the prawns turn pink.
Bring water and rosemary to the boil. Once the water begins to boil, stir in the rice, paprika, saffron and chilli and season to taste.
Layer the ingredients in a large saucepan as follows; first, about one-third rice then half onion and mushroom mixture, then beans and peppers, then half kingklip and prawn mixture and sprinkle each layer with a few drops of tabasco sauce, season with salt and dot with butter.
Continue this way until all ingredients have been used up.
Steam the paella, covered, over a medium heat for 30 minutes. (Serves 10)