I love different oils especially if they are packaged beautifully. My addiction is so bad that even when I'm doing a regular shop - you know - milk, eggs, washing powder - I sneak past the oil aisle and pop one into the trolley. 
It is much more satisfying and dare I say it cheaper to make your own. 
Here's a recipe using freshing coriander.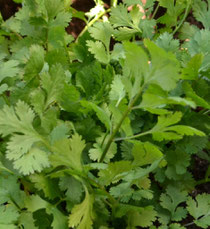 Ingredients
30g of coriander
10ml course salt
45ml white wine vinegar
175ml olive oil
Method
Blanch the coriander for 1 minute then put the coriander, salt and white wine vinegar in a food processor and slowly add olive oil through the feed tube.