We spent a long weekend in Rwanda a while back. We journeyed to this land of a Thousand Hills especially to see the Mountain Gorillas and they didn't disappoint, but I was surprised to discover how amazing Kigali is. It is extremely well run, safe and litter free – almost unheard of in Africa.
As we travelled north the peaks and valleys appeared like a patchwork quilt of small-scale farms. Our driver told us that a while ago this tropical area had been covered by trees but because the country is so densly populated, the trees have been descimated to make way for corn. The need for food a reality - deforestation the sad result.
Apparently there is a programme in place to protect the remaining forests and for trees to be replanted. But it will take years for the trees to provide a natural canopy and to prevent soil erosion. 
If you have any info about this tree planting project I'd like to hear about it. 
There are several different families of Gorillas living in the Volcanoes National Park in Rwanda and visitors wishing to see the Gorillas have to pay a costly dollar permit fee and only then are you allocated a family by the Rwanda Development Board. Our group was allocated the Umubano Gorilla Family - their leader is named Charles.
Charles? It seemed an incongruous name for a 230kg, chest thumping Silverback:)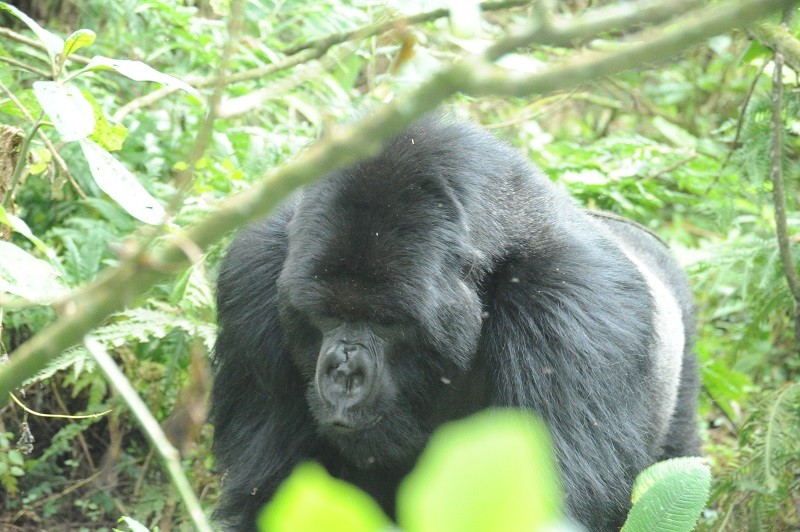 I think we were lucky in our family allocation as no sooner had we walked through a few fields of potatoes than we were instructed to quieten down as the gorillas were a mere 50m away.
I was amazed at how close they lived to the villagers. I also discovered later that our gorillas were much more active probably because we saw them in the morning and other groups had further to hike and only found their gorilla families later on in the day. 
Our first encounter was of two mid sized gorillas play fighting - I thought someone was playing a trick on us and had dressed up in a costume. I soon realised this was not the case. 
Our guide kept on telling us to: "back, back" as the family went about their daily rituals right in front of us. We were in a tight circle with overgrown bamboo at our backs - no where to run and hide. I felt nervous, my heart was pumping with adrenalin.
M had expressed a wish the night before to touch one - he was doubly rewarded when one of the gorillas used his arm as a swing. The look on his face was priceless.
It was an amazing experience filled with high pitched nervous laughter, and a profound sense of wonder.
I liked the way it was organised - only an hour with the family - which means they are not inundated with visits - and the high permit cost and guides also keep the numbers down and protect these endangered primates.  
I will never forget what it felt like to look into their soft brown eyes and get lost.