By the time we reached the Big Cave Camp in The Matopos my sense of humour had completely deserted me. During the 35 km drive from Bulawayo to the Matopos in the southern part of Zimbabwe, we were harassed three times by the police. It took us 4 hours on a fairly decent tar road to reach our destination.
At the first stop we were given a fine because we had the wrong reflectors on our vehicle (Zimbabwe is different to the rest of Southern Africa – duh). We visited two garages and a hardware until we finally found the appropriate reflector. At the next stop they wanted to know if we were carrying meat (we'd already hidden it under the front seat – I mean really, the lamb chops were from Woolies). At the next stop just minutes before entering the gate to our camp we were stopped so they could check if we had a fire extinguisher. At that stage even Oli wasn't up to chatting to them anymore.
Oli is great to travel with as she provides the entertainment during the long and often boring drives (she is also great to travel with for many other reasons which will become clear to you if you read all my travel posts - she features in a lot of them).
Oli had spent most of the journey reading a book "Rude Hand Gestures of the World" out loud to us,  M had slept through the entire demonstration which meant he was perplexed throughout the holiday when one of us would pull a sign at him.
When we were stopped for the third time Reeve and I tried out an Arab and a Greek gesture on the overweight, obnoxious police woman - needless to say, she didn't get it, but we did have a snigger (not a full blown laugh – more of a tired, irritated "you are an idiot" kind of snigger).
The camp, owned by the Waddy's, is set upon a monstrous rock – upon arrival we were greeted by the animated and friendly David Waddy. M sufficiently revived wandered around the lounge checking out photos and asking questions, one of which was: "did David know his mate Des Van Rooyen"' – M had asked this question repeatedly since we had arrived in Zim and hearing it for the umpteenth time set my teeth on edge - I was teetering on the border of losing it.
Finally we got to setting up camp –tents were unravelled, beds were made, boxes of food were unpacked and I had a G&T (with ice and a slice of lemon in my hand) when M once again brought up Des Van Rooyen. I couldn't help it – I burst into hysterical laughter – Oli joined in and we laughed raucously until our bellies ached. To this day when I hear the name Van Rooyen I giggle.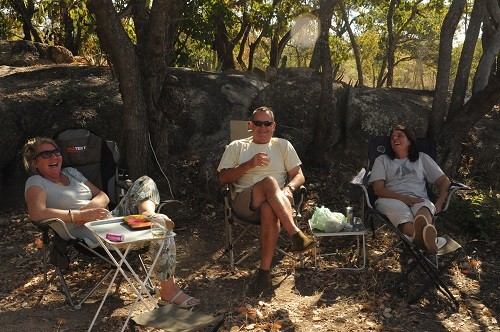 That's camping for you – you cannot stay mad for long. The sheer serenity of it all tempers your mood like a cashmere pashmina being wrapped around your shoulders on a cold wintery day. It is my favourite kind of holiday – there is adversity, difficulty and tedious drives – but there is also friendship, discovery, peace and food.
We have to take all our food with us because we like remote, unpopulated campsites which means there are no shops that we can pop into to buy supplies. We even have to make our own ice. Usually we travel with two Engel fridges /freezes and about eight boxes filled to the brim with tins, cartons and ground coffee. We are all coffee freaks so instant never comes with. We have a stainless steel plunger that has been dinged and battered over the years and Reeve has a big black, scarred kettle that we fill with water and place directly on the fire.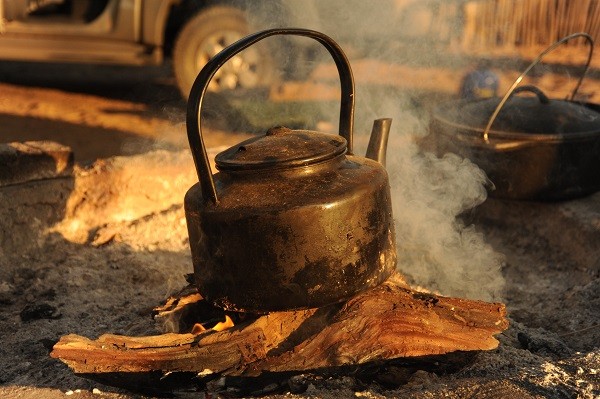 Sometimes, when we''re lucky, we're able to buy food from fisherman or catch it ourselves or from local rural woman or from a luxury lodge that has a campside ajoined to it.
I like camp breakfasts best. All the cooking, washing up and eating is done in our pyjamas. Oli and I love to make bread. We use yogurt or beer as a raising agent and we place coals from the fire around the bread pot. We've learned by bitter experience not to overload the coals, to use foil under the lid (so ash doesn't get inside) and now we even place a smaller bread tin inside the bread pot, to avoid burning the bread. Depending on our mood we add tinned sweetcorn, onion, tomato or cheese to the bread mixture.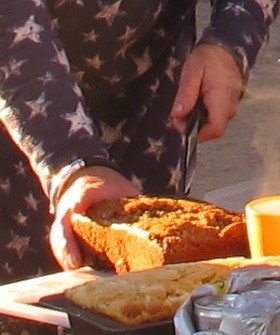 When we camp I feel as if I have nothing but time (which isn't really true as real-life demands that we return). I like the menial tasks, the packing and unpacking, making ice, washing clothes - all the things I never do at home.
I also love exploring and discovering stuff.
Cecil John Rhodes is buried in the Matobo National Park (I never knew that before). On the way up to his grave site we found immovable huge round balls of raw granite which  we couldn't help fooling around with. I think the solemnity of the occasion brought out the worst in us.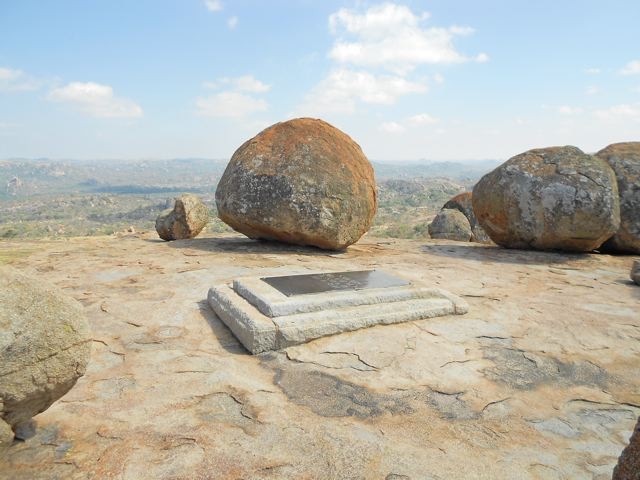 The Matobe National Park is filled with weirdly shaped raw granite boulders. You can almost see images in their formations.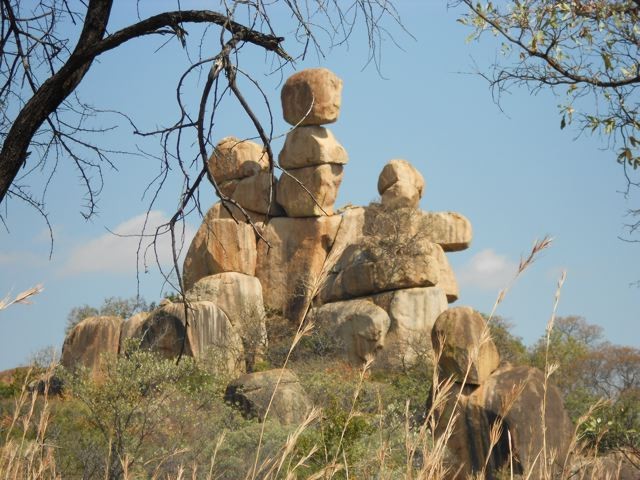 What do you think this image looks like?  I think it looks like a mother with her children.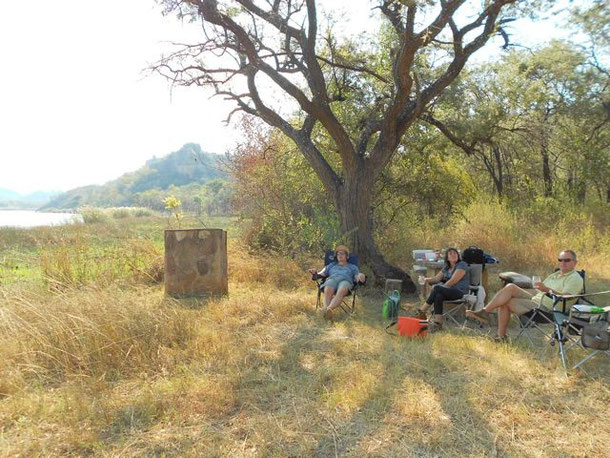 We enjoyed an afternoon picnic and snooze on the banks of the river.